Title: The Princess Diarist
Author: Carrie Fisher
Publisher: Bantam Press
Pages: 257
Release Date: 24th November 2016 (first published 18th October 2016)
Edition: Hardcover
Goodreads | Book Depository
"If anyone reads this when I have passed to the big bad beyond I shall be posthumorously embarrassed. I shall spend my entire afterlife blushing."
Synopsis:
When Carrie Fisher recently discovered the journals she kept during the filming of the first Star Wars movie, she was astonished to see what they had preserved—plaintive love poems, unbridled musings with youthful naiveté, and a vulnerability that she barely recognized. Today, her fame as an author, actress, and pop-culture icon is indisputable, but in 1977, Carrie Fisher was just a (sort-of) regular teenager.
With these excerpts from her handwritten notebooks, The Princess Diarist is Fisher's intimate and revealing recollection of what happened on one of the most famous film sets of all time—and what developed behind the scenes. And today, as she reprises her most iconic role for the latest Star Wars trilogy, Fisher also ponders the joys and insanity of celebrity, and the absurdity of a life spawned by Hollywood royalty, only to be surpassed by her own outer-space royalty. Laugh-out-loud hilarious and endlessly quotable, The Princess Diarist brims with the candour and introspection of a diary while offering shrewd insight into the type of stardom that few will ever experience.

The Princess Diarist is the last book Carrie Fisher wrote. It focuses on her days during the filming of the first Star Wars film in 1976 and how the success of the blockbuster changed her life. Carrie Fisher got the idea of writing this book because she had found the journals she kept 40 years ago and those journal entries are included in the biography.
That quote is sad, because she has passed to the big bad beyond.
I didn't know she had an affair with Harrison Ford. I don't believe any readers had any idea before reading it. And, as Carrie Fisher explained, it is a shocking revelation but not as destructive as it would have been if it was revealed all those years ago. It's one of the reason why she chose to talk about it now. The Carrison affair is a huge focus in this book and the diaries are mostly about Fisher's feelings for her costar during that time.
The diaries are hard to read, not because they are written badly (in fact, her writing and poetries in the journal are better than some best-selling authors), but because it's a tragic love affair. Being the other woman whom the guy is only using for physical satisfaction is not funny, and there's no surprise you can find hints of depression and self-loath in 19-year-old Fisher's writing.
"I call people sometimes hoping not only that they'll verify the fact that I'm alive but that they'll also, however indirectly, convince me that being alive is an appropriate state for me to be in. Because sometimes I don't think it's such a bright idea. Is it worth the trouble it takes trying to live life so that someday you get something worthwhile out of it, instead of it almost always taking worthwhile things out of you?"
Besides the affair, the book doesn't include much about the filming of Star Wars. Fisher chose to share how the fame affected her life and how the iconic Princess forever changed the way people remember her.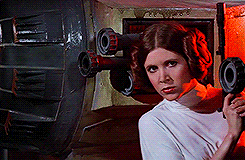 I picked up this book because I like Carrie Fisher and I found out she's publishing one about Star Wars, which is my favorite movie franchise. Going blindly into the book, I was a bit disappointed that it focuses heavily on the affair. I'll recommend this book to readers who love Star Wars and want some juicy details about Carrison. However, if you're like me, who just want to know more about Fisher's life and her struggle, you should totally check out her other books.